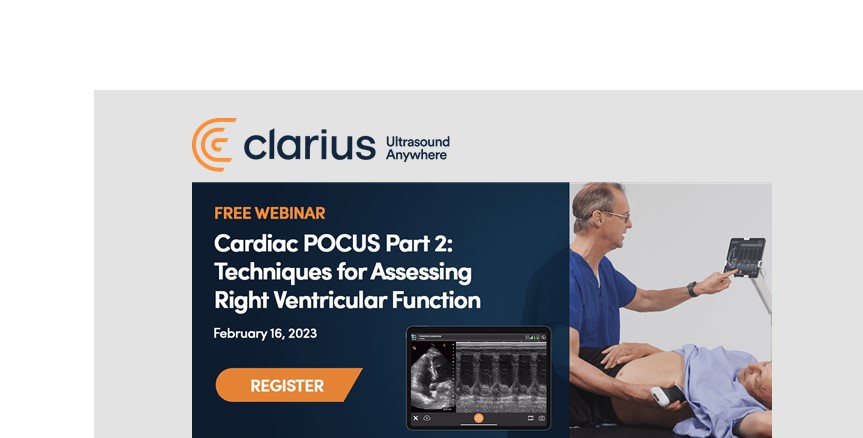 Join us on February 16 for the webinar "Cardiac POCUS Part 2: Techniques for Assessing Right Ventricular Function." Emergency physician Dr. Tom Cook will teach ultrasound techniques to accurately assess signs of right ventricular strain and dysfunction in patients with chest pain, dyspnea, or unstable vitals. Register today!
In this 1-hour webinar, you will learn to use POCUS to quickly evaluate the role of the right ventricle in your patient's pathologic presentations. Dr. Cook will teach how to:
Visually estimate and quantify the degree of tricuspid regurgitation
Estimate the pulmonary artery systolic pressure using the TR jet
Detect signs of massive or sub-massive pulmonary embolism
Identify the different signs of acute versus chronic right heart strain
Estimate the severity of right ventricle dysfunction using tricuspid annular plane systolic excursion (TAPSE)
Cardiac POCUS Part 2: Techniques for Assessing Right Ventricular Function
Thursday, Feb 16, 2022
2 PM PT | 5 PM ET | 10 PM GMT+1 | 11 PM CEST
Not your timezone? You can check here
Dr. Cook will give you the tools you need to quickly, accurately, and reliably determine whether the right ventricle is showing signs of dysfunction or increased pressure. He will teach how to integrate this knowledge into a global assessment and determine the next best steps to care for your patient. In this dynamic presentation, you'll see real cases demonstrating healthy and pathological images to help you develop the skills to generate and interpret ultrasound images of patients both already sick or becoming so. With specialized presets and automated workflows, Clarius HD3 delivers high-resolution imaging fast for a confident diagnosis when seconds count.