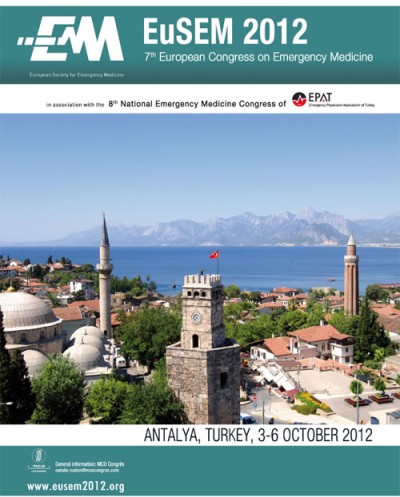 Emergency Medicine has been growing significantly in Europe and is now established as a primary specialty in 15 countries. The specialty has a strong foundation in Turkey where it has been established for more than 10 years. During 2011, EuSEM has played an active role in the recent creation of a Section of Emergency Medicine within the Union of European Medical Specialists (UEMS). This will enable the specialty to have more autonomy in the development of Emergency Medicine as a primary specialty in all European countries.
The EuSEM 2012 Congress targets all Emergency Medicine professionals and includes those engaged in pre-hospital, in-hospital or inter-hospital emergency medicine care and disaster medicine planning as well as those undertaking Emergency Medicine training and research. We promise you an exciting scientific programme covering all the major topics in Emergency Medicine. The scientific content of the EuSEM 2012 Congress will be comprehensive and up-to-date and provide a forum for discussion with leaders in the specialty. The EuSEM 2012 Congress will offer a wonderful opportunity for academic, professional and scientific exchange and networking. A faculty of world-class speakers, researchers and teachers from Europe and beyond will give high quality lectures and will facilitate interactive discussions between speakers and audiences. Their contributions and your presence will make the congress a great success.
Last but not least, we will be gathering in one of the most beautiful regions of Turkey. Antalya is the gateway to the Turkish Riviera. Local culture and cuisine and the historical sites of a city founded more than two thousand years ago will be at our doorstep. And the weather promises to be excellent.
We are looking forward to welcoming you to the meeting point of civilizations and promise you an unforgettable and stimulating congress.
With best wishes
Congress website: http://www.eusem2012.org/en/
Abdelouahab Bellou
EuSEM President
Basar Cander
EPAT President