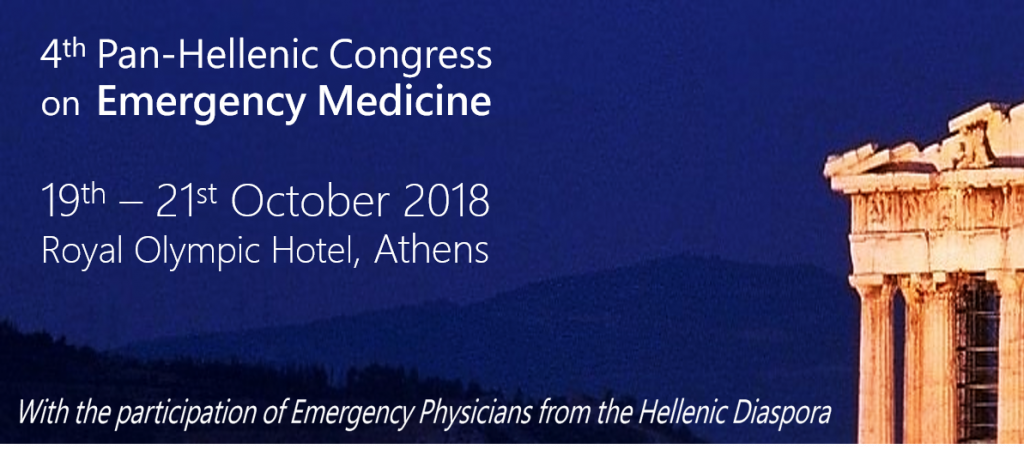 2018 is a landmark year for the Emergency Medical Services in Greece.
The Emergency Medicine Training Program has been approved, while at the same time clinical positions were announced for Emergency Departments throughout the country.
The Hellenic Society for Emergency Medicine, wishing to celebrate this important year, has organised a Pan-Hellenic Congress different from the previous. We have invited experienced Emergency Physicians from the Greek Diaspora from around the world and we invite you to the most important scientific event of Emergency Medicine in Greece for 2018.
The conference will feature:
High-quality Pre-Courses in Emergency Ultrasound, Emergency Pre-hospital Medicine, Basic Airway Management and Advanced Airway Management.
World renown speakers and education experts such as Dr Richard Levitan and Dr Peter Panagos from the USA,  A/Prof Peter Kas from Australia and Dr Aris Exadactylos from Switzerland.
Three days of interactive Emergency Medicine sessions with speakers from Greece and expatriates from Australia, USA, Canada, Britain and Switzerland with significant experience and expertise in Emergency Medicine. The program sessions include interactive panel and audience discussions. Real time translation in English and Greek will be provided during all sessions
Presentation of the new Emergency Medicine Training Program and discussions with its creators (Working Groups for Specialties (OEE) of the Central health Council (ΚΕΣΥ) for Emergency Medicine)
The first meeting of the international sector of the Hellenic Society for Emergency Medicine will give participants the opportunity to meet and speak with Emergency Physicians of the Greek Diaspora from all over the world
Demonstrations of clinical simulation scenarios at intervals by a team of experienced trainers
Free one year subscription to www.owntheecg.com, valued at € 30, to all participants in the Congress
For more information and registrations click here